BBK 8005 76mm Mass Air Flow Meter For 86-93 Mustang with30LB Injector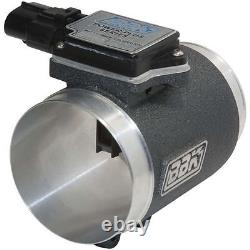 76mm Mass Air Flow Meter For 86-93 Mustang w/30LB Injector. Brandname: BBK Part Number: 8005 Description. Improves Airflow for More Power. Optimized for use with Fenderwell Style Cold Air Intake.
Precisely Calibrated Electronics for Accurate A/F Ratio. Calibrated for 30 lb/hr Injectors.
Starting with an all new 356 aluminum casting each unit is powdercoated then fully CNC machined to exact specifications before being fitted with one of BBK's electronically calibrated mass air sensor modules to ensure an accurate air/fuel ratio for the best possible performance potential. Gain Up To 15 RWHP in Minutes Dyno testing has shown up to 15 RWHP gains while maintaining an accurate air/fuel ratio unlike some competitor's units that are not electronically calibrated and may fail to maintain the all important air/fuel ratio.
Installation BBK Mustang mass air meters are designed to be a direct fit for a simple installation. All you have to do is swap the BBK MAF in place of the stock meter. Emissions Information This part is NOT C. B Approved and cannot be installed for use on any emission controlled vehicle in California. WARNING : This product can expose you to chemicals including Styrene, which is known to the State of California to cause cancer.

---