GRANATELLI 350-128-C GM LS2 MASS AIR FLOW METER WithCAI TUNING 350128-C SHIPS FREE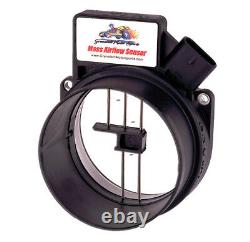 Granatelli GM LS2 Mass Air Flow Meter W/CAI Tuning. Improves mileage and throttle response.
Chassis dyno proven to add 8-25 horsepower (depending on application), 60% airflow increase over stock. Improves performance from 2,000 rpm to red line.
"Truly Calibrated" on our in-house MAF Dyno and Flow Bench to optimize performance for YOUR specific application. Compatible with most electronics and aftermarket bolt-on performance equipment.
Installs in 10-15 minutes using basic hand tools. American Muscle is Alive and Well at Lightning Force Performance! LFP is the only place to find the lowest prices on performance parts for your muscle car. LFP Started back in 2000 designing and developing parts for the Ford SVT Lightning. LFP has also ventured out into the Dodge and GM market offering bolt on parts for the Challenger R/T, SRT8 and the new 2010 Camaro SS.
Any other use, including recreational off- road use, may be in violation of local, state, and Federal laws. LFP Distribution(Lightning Force Performance)does not implicitly or explicitly confirm the legality of using any products it sells on public roads; that is entirely the responsibility of the consumer.

---